Just Some Quick (?) News
Here it is October and I'm reminiscing over summer! I had a great time teaching small groups and private lessons in various locations – Squim Bay, Chuckanuck Creek, the Skagit River, Lake Padden and Lake Washington. It was fun to teaching during the warm summer months. I felt like I was enjoying kayaking during the languid months of the warm northwest weather and sharing natural history with the people I was with. It is experiential education at it's best when we can learn by doing and take in the seals, river otters, herons, eagles, kingfishers, starfish, anenomies…the richness here just goes on and on!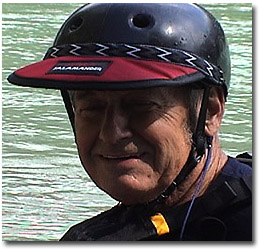 Tom first came to me for a class on how to use his Pygmy, but after hearing a story about whitewater he wanted a lesson on that too! He had his first lesson right around his seventieth birthday! Now that he is retired he is enjoying all sorts of stuff, and much of it has to do with roping and rodeos!

1. Kids looking in a water tank to see not fish but a guy hanging upside down in a kayak breathing "Rapid Air".

2. Hula Hoops - while my friend Judy from Brass One ornaments seems perfectly at home, someone else seems to be saying "jump, spin, do something!"

3. GotBull.com brings the mechanical bull to the show. I just sat and laughed - can we get one?
The annual Outdoor Retailer show was a great event for me this year and I picked up all sorts of goodies for the online store! This year I am thinking of Christmas early for the first time in my life and feverishly working in Excel to present new fun products for kayaking, camping, travel and home – after all, we outdoor people do enhance our home lifestyles too. I drove from Seattle to Salt Lake and then through Idaho and my favorite stretch was along the Lochsa River. (River trip, anyone?)
Classes at the West Coast Sea Kayak Symposium were better than ever – the break-out groups in the tides and currents class were really enthusiastic about the trip planning, and the woman's group came up with all sorts of new commentary.
I put my how-do-demo-kayak class to the test during a fun afternoon of wind and chop with my friend Barb Cheryl – we were testing the limits of the rescue boats as we wanted to get far enough out to get a wee bit of wee surfing in!

| | |
| --- | --- |
| | As I had been contacted about certifying racers for the Primal Quest Adventure Race I wanted to see what it was all about and so volunteered on the medical team. |
The medical group (I learned alot about taping feet!), the teams and the race were very inspiring – many of you might have heard about Nigel Aylott's death on the race. This very sad event became inspiring during ceremonies for him later – he was captured on video with all of his enthusiasm for the sport. His mother and brother were flown up from Australia to speak during the closing ceremonies and one could plainly see what a tight nit and supportive family he had left behind. I was able to participate in Nigel's commemorative paddle

Now I want to do more cross training – at least with the mountain bike and roller blades! I don't think I want to portage kayaks on skates over ten miles, however. After paddling on the Skagit River from Rockport to Mount Vernon, these racers had to put their kayaks on wheels and portage them to Bayview State Park!

I also want to do more certifications and teach wing paddling technique – it's no wonder some racers had tendonitis as they were using the wing like a regular paddle. I saw a lot of opportunities to shave time off the paddling sections!

And...The First Light Kayak from New Zealand seems to have made it's way into my life (of course, I am the target market – the smaller model with the clear hull is just perfect for we small females) and I'll be adding it to the store as well. I have one for the winter so if anyone wants to try it out just let me know. This little kayak is made from carbon fiber and urethane and can be lifted with just two fingers! It tracks and surfs, handles well on flat water to chop – I've yet to take it into the big seas! Check out this goofy movie...

I'm also carrying the Innova Inflatable kayaks – fits into a suitcase and easily inflates to become a real kayak when you get to your destination. Add these to the Kajak Sport kayaks from Finland find an interesting cross section of kayaks in the online store!
Clapping for the racers
The Kayak Portage from La Conner to Bayview State Park
Leaving Bayview at night for Rosario Resort on Orcas (hurry before the fog returns).

This is my self portrait created near the La Conte Glacier in June.
While not recommended, solo paddling has it's peaceful advantages.
(not the best, but hey)
Schedule of Classes
October 8 – 17– Whitewater Course through Outdoor Adventures
(optional Saturday night Salsa!)
October 12, 19, 26 Tuesday evening series at Agua Verde Paddle Club. Forward Stroke with video, Boat Control and Bracing, Rescues. Wrap up this season and get ready for the next! Break for snacks or dinner!
October 22 – 24 – Instructor Development Workshop, Port Townsend
October 29 - 31 or November 5, 6, 7 Instructor Certification Course, La Push
On to skiing – visit me at the Steven's Pass Ski School! Whoo hoo, I can't wait to ski again….
My Stuff for sale:
Nigel Foster Silouette
Two graphite paddles by Werner
One Salamander Tow Belt